As an American, and not unlike many other Americans, I have this weird spatial/cognitive relationship with our great northern neighbor.
Obviously, and just like any other American, I'm aware of the fact that a half-continent-sized land mass looms north of my own country's controversial and troubled borders. Rationally, I know that it's a sovereign state with ten provinces, three territories, and one preternaturally handsome boy-Prime-Minister (Beto O'Rourke of the North). That it has its own colorful French/English/Scottish history, indigenous peoples, governing structures, bustling cities, languages, accents, and foods.
Take donair pizza, for example. A Canadian, um…touchstone? Innovation? Mistake? (Regardless, this slice of pure cultural Canadianness should come in handy now that the entire country has legalized weed. But more about donair late-air.)
Anyway, despite all this, in my own regrettably US-centric mental construct, the world of North America sort of stops somewhere north of my eyebrows, with the 49th parallel—that hard east-west line stretching from the top of Washington State to the scraggly, northern reaches of Maine—feeling like the upper boundary of my actual, physical American head.
It's almost as if Canada sits outside and above the ceiling of my mind, like a vague and incomprehensibly vast pine-scented attic, dark, endless, and cold.
Obviously, I know Canada's up there. It's always been up there, teeming with moose and conifers and hockey rinks and scallop boats and 36 million proud Canadian souls, a sort of parallel universe to the US, but nicer and more civil (if a little less enterprising or ambitious), and certainly less crowded.
But when it comes to Canada, this rider has rarely tended to think of it, much less considered visiting it. Which is a shame, since a fair bit of the eastern reaches of The Great Maple Kingdom—from Quebec to New Brunswick to the Maritimes—is easily within a day ride from me in southern New England.
Well, this all changed a few summers ago during a family visit to Portland, Maine, and not on a motorbike.
The Adventurelounger clan was knocking around downtown Portland on Commercial Street (which runs along the waterfront); and after an awesome breakfast at what is arguably the city's best diner, Becky's, we strolled over to the Bay Ferries to look into a day trip to one of the Casco Bay islands.
As we rounded the corner from the smaller ferries and boats, I was struck by something incongruously huge and imposing in the harbor. It looked like a cross between the space shuttle and a boxy, windowless cruise ship.
Turns out I was looking at The CAT, a high-speed catamaran ferry which makes the 212-mile sea crossing from Portland, Maine to Yarmouth, Nova Scotia daily, in just under six hours.
Oh, Canada.
There was already a line of cars and motorcycles waiting to board that morning. As they rolled up the steel ramp and into the CAT's belly, I thought to myself, "Someday, I'm gonna ride that sumbitch to Canada, and then I'm gonna ride around Canada some more."
Well, that someday was a Sunday this summer. And here, my friends, is how it rolled.
* * * * * * * * * * * * * * * * * * * * * * *
Between work obligations, family commitments, and a fickle August weather forecast, I had three Weather-Channel-certified clear days—from dawn on Sunday morning until late Tuesday night—to get me and my Yamaha Super Ténéré from Westport, Connecticut to As-Far-As-I-Can-Ride, Nova Scotia and back again.
In practical terms, this is what a three-day run to an island 200 miles off the coast of Maine would look like:
1) Early morning run for Portland
2) Afternoon ferry to Nova Scotia
3) Overnight in Yarmouth, NS
4) Rise and ride around as much Nova Scotia as time and butt-comfort would allow, from dawn to dusk
5) Overnight in Yarmouth again
6) Seven AM ferry back to Portland
7) Ride home
I was "Mainely" compulsive about this timing because of weather. I would've loved to eke out five days of riding instead of three, and get more Nova on my riding bagel.
But on the weekend I was planning to ride, three dry days were bracketed by shitty, monsoon-like weather. I hate riding in rain for obvious comfort and safety reasons, and the only thing I hate worse is riding in electrical storms on a mobile lightning rod. And the only thing I could possibly hate more would be braving thunderstorms and a washed-out I-95 on brand new, slick-as-snails rubber, like the unridden Heidenau Scouts I'd just put on the Ténéré.
I mean, will you just look at all that baby tire fuzz?
Since Weather.com was calling for clear skies from Connecticut to Nova Scotia for a solid 72 hours, my ride was going to happen in that dry window, and that was that.
I spent the rain-soaked Saturday before my trip in caffeine-soaked, pre-ride jitters, compulsively route-planning, list-making, over-packing, unpacking, re-packing, rearranging, fuel-topping, pressure-checking, and electronics-charging.
Do I need flip flops? Where's the goddamn GoPro? IVY DID YOU TAKE MY GOPRO CHARGING CORD! How the frig do you get this route on the Garmin? Goddammit this happened last time…waypoint or route? Sidi Adventures or the Rev'Its? They're more comfy but you're gonna ride dirt. But you're gonna ride slab. Pack rain kit or screw it? Fleece? But it's August. But it's Canada…
It's like getting ready for school with your mother screaming at you in your coffee-jangled, middle-aged head.
By 10 pm that evening, having exhausted myself and my self-inflicted compulsion-fest, I did a final check of the weather app, which called for 🌤️🌤️🌤️—clear skies!—by morning), kissed my Emily goodnight, and drifted into fitful "scarecited" sleep.
At 5:15 I popped up, downed a couple of Nespressos, suited up, went down to the garage, hopped on the Super-T, synchronized iPhone, watch, Garmin, and the bike's trip meter, opened the garage, turned the key, fired her up, rolled on the throttle and rolled out of the driveway at precisely at 6.
Despite what the digital weatherman in my iPhone had been saying, and my best laid plans, it was…misting.
By the time I got onto I-95 heading north/east, it was drizzling.
And by New Haven, it was raining.
🌧️🌧️🌧️🌧️🌧️🌧️🌧️🌧️🌧️🌧️🌧️🌧️
How do you silently scream FUUUCKK! to yourself in Canadian?
So my adventure started off wet, with a severe case of highway butt-pucker as I passed (and was passed by) 18-wheelers, their blasts of zero-visibility road spray obscuring my line and buffeting me about. I rode tip-toe straight on the bike's slippery new sneakers, clenching my way from New Haven to Hartford, where the rain became heavy enough for me to pull over and throw on my (perfectly packed) rain kit.
Forecasters, you get an F. Maybe even a U.
Nevertheless, I-95 gave way to I-91 to I-84, and by the Mass Pike the rain was finally starting to ease up. I turned my rain-frown upside down when I stopped at a Massachusetts rest area to lose the hi-viz rain kit, along with my New England Thruway butt-pucker.
By Portsmouth, New Hampshire, I was feeling practically sunny, along with the atmosphere. So I stopped to grab some breakfast.
If you ever find yourself in Portsmouth NH, pop over to Popovers On The Square, smack in the middle of downtown. Everything they serve—and I mean everything—floats into your mouth on a raft of steaming, pillowy, golden dough. It's popover heaven, and my chosen cloud was a fluffy egg-and-cheese variant. I topped up on caffeine, chatted with a few bikers, and then headed for Maine.
It's another hour of wide, fast slab up the Maine Turnpike into Vacationland (as the state plate proudly proclaims). I motored past Kittery, Wells and the Kennebunks, finally reaching Portland around noon. I had about two hours until ferry loading, so I swung by one of my favorite local groceries, Lois' Natural, to stock up on some CAT food.
Already three bags on the Super-T? What's a fourth? So I saddled up with provisions and made my way down to the ferry.
If that's you, go for it. But for today, it's my turn. Behold the glee:
They board motorcyclists first in order to tie-down the bikes, so along with several other riders (including an older "just married" couple riding off to honeymoon on their spanking new Goldwing), we were sent to the front of the line to wait.
By now, it was blazing midday sun, and I joined the other riders in peeling off our sweat-soaked riding kits to change into civvies before boarding. When the signal came, we gingerly moto-tiptoed up the metal boarding grate (which would be like falling on a cheese grater in flip flops and shorts), and into the belly of the CAT.
Here's my Super-T, a few spots from the Goldwing honeymoon chariot. All tied down, just like in marriage (just kidding, honey).
I really had no idea what to expect aboard The CAT. I was prepared for something stark, utilitarian and ferry-like—fiberglass benches with a crappy hot-dog concession, battleship grey sand-grip metal flooring and fogged-over plastic windows.
But instead, it felt like a cross between the Acela and a food court at the mall. The CAT was slick and modern, with shiny wooden floors, two dining areas, an array of seating choices from leather barcalounger-style recliners to mini sofas and cafe tables, and several outdoor decks.
I chose this perch to eat my organic Maine lunch. Although an entire pint of blueberries, while healthy, produces some interesting results after it goes on its own adventure ride down your digestive tract.
Here we are ferrying past Portland Head Light.
And after we cleared the harbor, Captain Catamaran floored it. Au revoir, America. I'm going to that country up above my head.
I almost lost track of the time watching the sun set on the aft-deck. Omigod! It's almost 7:30 Atlantic Daylight Time! Can't be late for the on-board entertainment!
You can experience what I experienced below. It was better than good. It was Canadian powercringe good…
To be fair, "powercringe" kinda makes me sound like a snarky American jackass, which I can occasionally be. But the CAT crew guy leading the spontaneous acoustic sing-along was earnest, charming, and occasionally on-key. He was putting himself out there trying to pass the time for our motley crew of vacationing families, retirees, and the odd adventure biker. It was almost sweetly fun. Almost.
Maybe I'm turning Canadian?
We cruised into Yarmouth Harbor under darkness. I re-kitted up, unleashed the bike, wished the Goldwingers well, and rode out onto Canadian soil. After a brief wait at border control (and a chat with a guy on an R1200GS Adventure who was heading for the legendary Cabot Trail), I found myself puttering down an abandoned Main Street in Yarmouth.
Since it was 9:30 pm on Sunday night on a Canadian island (isthland?) way out in the Atlantic, everything was predictably closed. But I was hankering for a quick bite before heading to accommodations a short ride north. Thankfully, the lights were on here at Jake's Family Restaurant (photo credit: Tripadvisor.CA).
Which brings me back to something I said at the beginning of this post that I'd address "late-air."
I walked into Jake's like a weird American spaceman just off the shuttle in full riding-kit spacesuit. I pulled off my helmet, approached the counter, said hi, and tried to figure out what to eat.
They had a glass warming case filled with pizza slices, and one of them looked like it was oozing cheesy goodness over some lumps of what looked like meat…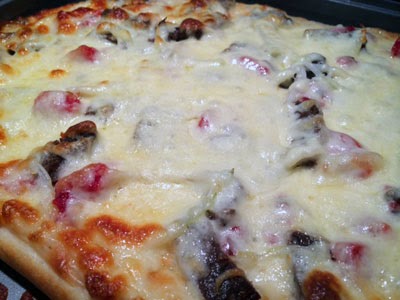 "What kinda slice is that?" asked the American astronaut.
"Donair!" chirped the Jakey Canadian counterman.
"Don-what?" inquired the astronaut.
"Donair." said the counterman.
"Like, uh, Doner? Like doner kebab? That kinda meat wheel?" asked the alien in the spacesuit.
"Yeah kinda like that, eh? It's got, like, sausage meat, but it's donair, ya know?"
I didn't, but it sounded good enough to me. Whatever it was, with that amount of glistening melted cheesiness, it had to be good. I ordered two slices and a Diet Coke, and sat down, stoked and marveling at the fact that I was actually in Nova Scotia, about to scarf.
I lifted the slice to my lips, salivating in anticipation of the first bite. And when I chomped down, I experienced a mouthful of sensory confusion…which rapidly escalated to panic.
My eyes, brain and tastebuds all indicated cheesy…saucy…savory.
But my mouth was saying sweet…sticky…meaty.
As adults, we rarely ever experience the gag reflex. I did. I actually gagged.
The weird, almost violent mixture of flavors and textures produced some kind of reptilian parasympathetic nervous reaction in me, like I was eating something toxic. "Reverse thrusters! Commence vomit sequence. Eject! Eject!"
A quick Google search on my phone identified the source of my revulsion. It turns out that donair pizza is a Nova Scotian invention. They take a perfectly good slice of pizza, cover it in salty doner kebab meat (at least I had that part right)…and then smother it in a sickly-sweet sauce that is essentially Cinnabon frosting mixed with vinegar and garlic powder.
In other words, this, on top of sausage wheel meat, on top of pizza.
What. The. Fuck.
I covered the crime scene with a napkin, folded it between two paper plates, and stealthily pitched it, lest I be observed as a culturally-insensitive American spaceman. Then I got back on my bike and rode north through the Nova Scotia darkness to my lodgings, about 12 miles up the coast in Darling's Lake.
I arrived where I'd be staying—at the Churchill Mansion Inn—around 11 PM. The kindly innkeeper showed me upstairs to my room, where I shed my riding kit, took a hot shower, and cracked a flask of bourbon (Basel Haden, for those who care) to celebrate arriving unscathed (and unpoisoned) in Oh, Canada.
Cheers to you. Tomorrow, we ride.
Hello, Darling's.
Darlings Lake, Nova Scotia from JP/CT on Vimeo.
I crashed for the night at the very cool Churchill Mansion Inn, a nineteenth century mansion built by Canadian sea captain and merchant mariner Aaron Flint Churchill, anecdotally famous for having warned Captain Edward Smith (of the ill-fated Titanic) to quit seafaring and retire before his luck ran out. Oof.
Here's my Ténéré in front of the Inn, wearing her accidental maple leaf livery.
It seemed like I had the place all to myself, with the exception of one of the Innkeepers, a delightful local woman who served up a delicious breakfast and a tour of the gracious old Victorian-era home.
I'd done a fair bit of obsessing about my route, as I only had from dawn to dusk to explore the southeast corner of the Island. After consulting other ride reports (and with advice from some friendly locals on ADVRider), I decided on a loop that would take me north along St. Mary's Bay (an inner stretch of the Bay of Fundy); up to Annapolis Royal; then inland and south with a swing past Kejimkujik National Park on the way to Bridgewater; south and then west along the coast through Brooklyn and Lockeport, and then wending my way in and out of the coves on the way back up to Yarmouth.
Let's ride.
First stop was at one of the longest, sandiest stretches of beach on the Western shore—Port Maitland. Nice looking beach, but the facilities could use a little TLC…
I noodled my way North along Rte. 1, aka the Evangeline Trail, threading through little Acadian and French fishing communities, and admiring the wooden churches that dotted the landscape.
I rolled through Digby, which lays claim to being the scallop capital of the world. From the number of boat yards and scallop trawlers on view, who am I to argue?
I decided to stop for a little caffeine boost in Annapolis Royal (which sounds better to me if you Frenchify the second part, as in Casino Royale). It's a tidy, historic little community on the bank of the Annapolis river, just inland from the Bay of Fundy.
Here's where I stopped: Sissaboo Coffee, apparently named after the nearby Sissiboo river.
As someone who earns their livelihood in New York City, I'm always pleasantly surprised (shocked, even) when I get a good cup of coffee out in the, well, hinterlands. Well, Sissiboo Coffee surprised and shocked me with a stellar velvety "flat white," consumed (once again) by this interstellar rider in full astronaut kit. The local art crowd and a couple of tourist families were kind enough to ignore the interloping American who was fiddling with a GoPro charger and obsessing over a Butler map, planning his route south. Thanks for the great cup and hospitality, Sis.
Before leaving Annapolis Royale, I checked out the harbor, and bumped into a German family in this awesome thing. Not quite a Mercedes Unimog, but a MAN truck conversion for touring North America., like this family here in a slightly larger rig. Just hope it doesn't take premium.
Here's where I banged a right and started heading inland. I'd read about Kejimkujik National Park, and wanted to find some unpaved confines to try out my new Heidenaus. It must be either a Canadian, regional, or Nova Scotia thing, but they refer to main roads as "trunks," so I jumped on Trunk 8, a gently winding but fast two-laner.
About midway down the middle of the island, I began seeing one after another dirt road peeling off Trunk 8 and into the woods. Most weren't marked, and it wasn't clear if they were logging roads or private ways. I decided they were put there explicitly for the fun and diversion of middle-aged ADVbikers like me.
I killed an hour just hooning around through the woods and getting lost. Never saw another vehicle or soul. I think I found heaven, and it's on a wet, rutted dirt road somewhere up in Nova Scotia…
After hooning in heaven, I decided to check out the National Park itself, so I paid the entrance fee, and looped around Kejimkujik. If I had the energy, I would've stripped down for a dip here (there were several folks swimming). But the thought of de-armoring was overwhelming, so I rode on.
My son's name is Noah, and the signage here looked like his boyhood bedroom, so I was compelled to stop for gas and water.
There are two roads that run along the southern Nova Scotia coast: the fast, multi-lane 103, and the ribbony, unhurried Route 3, which dips up and down through the bays and cove towns of the south shore of the island. Naturally, I chose door number 3, which took me through Lockeport, where I stumbled on a funny little sight. A Lilliputian navy of model boats floating in their own Lilliputian harbor, apparently built and maintained by one Floyd Stewart.
Hat's off to you, Cap'n Stewart. Your Littlebigharbour made my day.
A little further south took me to Western Head, a lovely seagrass and rock promontory jutting out into the Atlantic. It was a stark and quietly beautiful place indeed. I'll shut up and let the pictures do the talking.
It was getting to be early evening; since it was summer I still had a few hours of daylight, but the progress I was making along loping Route 3 was slow, and at the rate I was riding it would've taken me well past sundown to scribble my way along the coast and back up to Yarmouth.
But another route on my Butler map looked pretty direct and promising: Route 203. It was almost a straight shot back up to Yarmouth…but there was suspiciously little along the way. So I did a quick Google search, and this is what Atlantic Canada Cycling's website had to say:
"Route 203 is considered the loneliest road in the province because it has the longest uninhabited stretch of any paved highway in Nova Scotia. Here this road goes deep into the woods. Totally devoid of people, the only inhabitants here are deer, moose, and a few black bears. Stray roads go off into the woods, remains of old pioneer trails and newer logging roads. With its atmosphere of abandonment, the highway gives a post-apocalyptic Canadian "Mad Max" feeling. The road is very rarely patrolled by the police…With little traffic, no cellphone service and no houses along the way, it's a dangerous and desolate place to have a mechanical breakdown."
130 kilometers? No people, cell service or police? A chance of encountering moose or bear? Let's go!
Despite my initial bravado, I have to say that 203 was more than a little spooky. The pavement is cracked and crumbling in many places, with green grass growing up through the roadway. I am not exaggerating when I say that in a solid hour and a half of riding this "Ghost Highway," I saw NO ONE—not a car, truck, person, moose or bear. Just one lonely porcupine scrambling out of the Ténéré's path.
But once you got past the idea that if you made a mistake, they might never find you, it was positively Zen-like, one of the best hours I've spent on a bike, magnified by the acute awareness of how alone I was.
I rolled into civilization (aka Yarmouth) just before 8 pm, about 325 miles after I'd set out that morning. I'd be crashing at an AirBnB, a neat little apartment over an art gallery a block away from the Bay Ferries terminal. I finally shed my kid, and rode down to grab dinner and beer before hitting the sack for a 7 am CAT departure.
That's my digs on the upper left…
My AirBnB host, a delightful Moroccan woman, offered to make me coffee in her restaurant (next to the gallery) at 6 am the following morning. Since her place was literally directly across the street from the ferry, I hung out, caffeinated and chatted until the last minute. Then across the street…
into the passport control and ferry queue…
…and me and my Ténéré were heading back to the US of A.